Exquisite tapas in Andalusia: Bar El Cura, Trebujena, Cádiz
Exquisite tapas in Andalusia: Bar El Cura, Trebujena, Cádiz
Tapas in Trebujena    Follow my blog with Bloglovin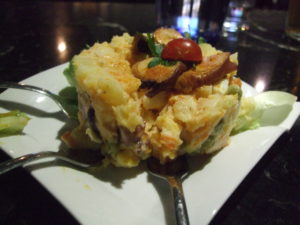 The white village of Trebujena, perched on the top of a hill overlooking the estuary and surrounded by marshes, is not on the tourist path. However, if, like me, you enjoy excellent tapas, then Trebujena is definitely worth adding to your go-to-list when eating out in the province of Cadiz.
About 30 minutes from Jerez de la Frontera and 20 minutes' drive from Sanlucar de Barrameda, Trebujena is a quiet, unassuming and friendly village. If you are in the area in the summer, it's best to go in the evening as it can get incredibly hot here during the day.
So, where should you go when you get there?
One of the great things about Trebujena is that each bar has its own range of tapas and by that, I mean you won't find the same standard menu in each one. They all have their own charm and delicious tapas. Whether you choose Bar El Litri, La Escalerita de Ana or Bar El Cura, you won't be disappointed. While I  recommend all three for their excellent tapas and service, in this post I'm going to tell you about my latest experience in Bar El Cura, which you'll find in the plaza Antonio Cañada.
What we chose
We came here on the Sunday evening of a busy weekend during the Trebufest; Trebujena's annual music festival. Knowing how busy they had been all weekend, I was half expecting the kitchen to be closed and the tapas to be of a lower standard than normal. I couldn't have been more wrong.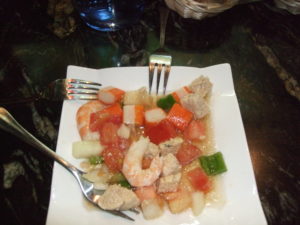 The selection of tapas in Bar El Cura is varied and elegant. Whilst most bars in and around Cadiz serve the traditional pescaito frito, (fried fish) El Cura has a menu of original tapas at very reasonable prices.
We started the evening with a cold tapa of 'salpicon' a seafood salad with tomatoes, pepper, onion and a dressing. Salpicon varies from place to place and the amount of seafood you get can sometimes be outweighed by the salad, but fortunately, El Cura is generous with the seafood.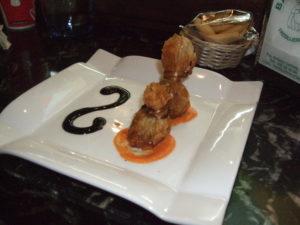 Next came the exquisite Taleguitas de alcauciles y patanegra; beautifully wrapped parcels with artichokes and cured ham wrapped in filo pastry and deep fried. Artichokes are commonly known as 'alcafchofas' in most parts of Spain, but here in Cadiz they are known by their other name 'alcauciles'. A deliciously warm mixture of textures and flavours, this tapa won my vote immediately.
Trying something new
Then we chose a dish that still makes my mouth water every time I see the photo. Milhojas de mango, queso de cabra y jamon from the specials board was a tapa I had never tried before. Filo pastry topped with a layer of mango and goats cheese, a slice of cured ham and a tiny drizzle of olive oil on the top. Biting into this was like disappearing into food paradise.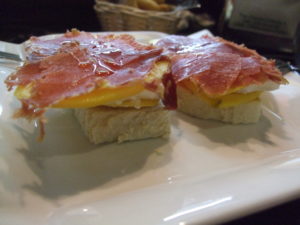 Next came the other half's choice which, of course, being the more carnivore of the two had to include meat. He ordered magret de pato sobre timbal de patata – duck on a bed of potato. The duck was moist, and the potato melted in my mouth bringing out the wonderful flavour of the duck.
Pulpo al horno
We finished the savoury dishes with another one from the specials board 'pulpo al horno' – oven baked octopus. I am not exaggerating when I say that every mouthful of this dish was accompanied by an 'ooh' or an 'mmm'. The dish was served hot and with papas panaderas (potatoes fried and then baked in the oven)and roast peppers.
El Cura also has a great selection of wines and local sherries to choose from. It was impossible to leave without a homemade chocolate dessert, a café bombon (coffee with condensed milk) and a peppermint tea.
Two of us ate and drank for around 22 Euros. This bar gets a sobresaliente (ten out of ten) from me for its original selection of tapas, taste and excellent value for money. The service is great and the professional dedication from the owner is amazing. As a family run business Bar El Cura currently closes on a Tuesday, so remember to choose another day if you want to go here.
Top tip for ordering tapas
A tapa will give you a saucer size dish while a ración will give you a larger 'sharing-plate' portion. Tapas vary in size from restaurant to restaurant. If you have never been to a particular restaurant before and you aren't sure whether to order a tapa or a ración, start with a tapa to judge the size of their portions.
Some tapas are extremely generous and are great for sharing, whilst in other places you will need to order a ración (a 'sharing-plate') or media ración (half a 'sharing-plate' portion ) for sharing. You can order tapas and raciones as you go and therefore you don't need to order everything at once. This means you can judge the size on your first order and take it from there.  Buen provecho – enjoy your meal!
* I have been to this restaurant more than once and I love it.  Every time both the food and service has been excellent. Bar El Cura had no idea that I am reviewing them and all opinions are my own (and of those who shared the meal with me!).
Note and update
Since writing this post, the owner of Bar El Cura has retired (2022), but don't let this put you off visiting Trebujena. There are many very good bars serving wonderful tapas and dishes, including La Escalerita de Ana, La Peña Flamenca and Ca Moña where you can buy local and organic products. I wish the owner of Bar El Cura a very happy retirement!