Eat out in La Sierra de Cádiz; Benaocaz
Eat out in La Sierra de Cádiz; Benaocaz
So, for me a healthy approach is an important part of good writing and good, home-cooked food forms a part of that approach. When we take our retreat guests out for dinner, we look for places that use local products, cater for dietary requirements and provide good service.
Benaocaz is home to two of my favourite restaurants. Nestled in the mountains on the road from Ubrique to Grazalema, Benaocaz has a long tradition of producing cheese, cured meats and leather products. It is one of the less well-known villages on the 'pueblo blanco' route, but is well worth a gastronomic visit.
I first came to Benaocaz in the year 2001 via a recommendation from a fellow foodie in Jerez de la Frontera. Naturally, much water has passed under the bridge since then and bars and restaurants have changed hands. Fortunately, they still offer excellent quality at very reasonable prices and you may notice your euros go further here compared to restaurants on the coast.
So, in no particular order, here are my thoughts about the restaurants El Parral and El Refugio:
El Refugio Angelica
As you enter the village both restaurants are on the left hand side. El Refugio, which is the first restaurant you come to, has an open terrace with fantastic views over the mountains and a spacious dining room indoors with large windows from which to admire the views or watch the sunset.
Award-winning chef, Angelica and husband, Santi have a delicious and varied menu and Angelica is always willing to cater for dietary requirements. There are a few vegetarian options on the menu and if you phone or message in advance, Angelica will prepare vegan, gluten free and sugar free dishes. Everything I have tried here has been amazing. My favourite starters include the Ensalada Bouquet which is a mixed leaf salad with a honey and walnut dressing and the local Payoyo goat cheese made in neighbouring village, Villaluenga del Rosario, and the savoury cheesecake. Yes, you read that correctly; a savoury cheesecake. Angelica has created the perfect combination of a warm, cheesy, savoury dish with a crunchy base and caramelised onion.
Santi is a specialist in jamón and local sherry and serves up fine slices of cured ham with some of the best sherries from the region.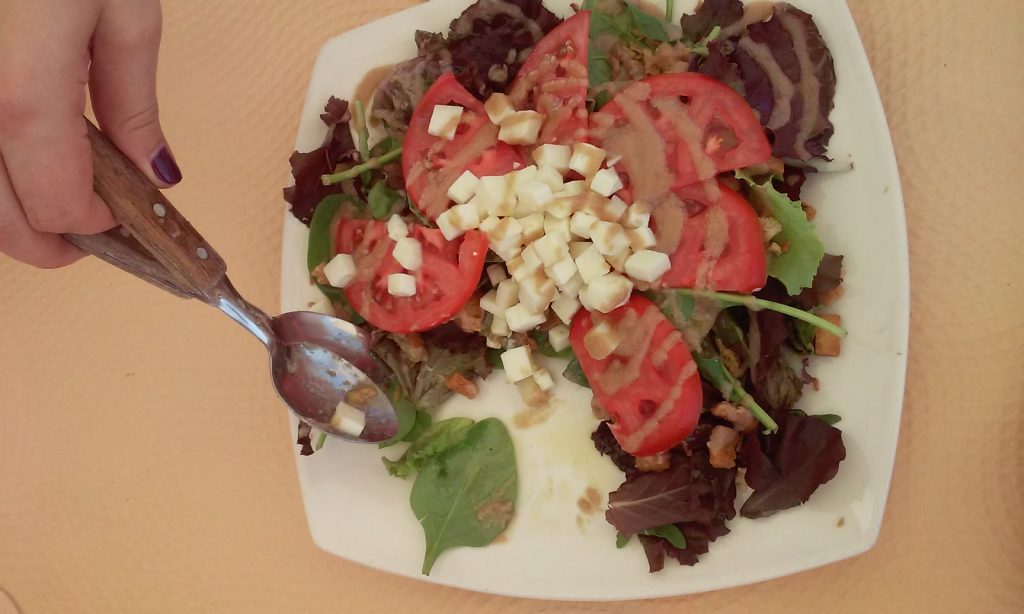 Cost
Main dishes at El Refugio range from 8,00 – 15,00 Euros with fantastic homemade desserts averaging at around 5,00 Euros. Desserts and starters are more than enough to share and 1/2 raciones (smaller portions) are available for some starters.
El Parral
Continue up the hill and you come to El Parral with its lovely covered terrace, making it ideal for shade on a sunny lunchtime and creating a superb (and somewhat romantic) evening atmosphere. Inside there's a cosy dining room with a log fire, making it ideal for cooler autumn and winter evenings. Run by Maite and Ivan, El Parral's menu has a delicious vegan option; a vegetable wok with brown rice which comes served in a traditional red roof tile. You can also choose to add chicken or 'secreto iberico' (a juicy cut from the infamous Iberian pig) to the vegetable wok if you prefer it with a meat option.
Cost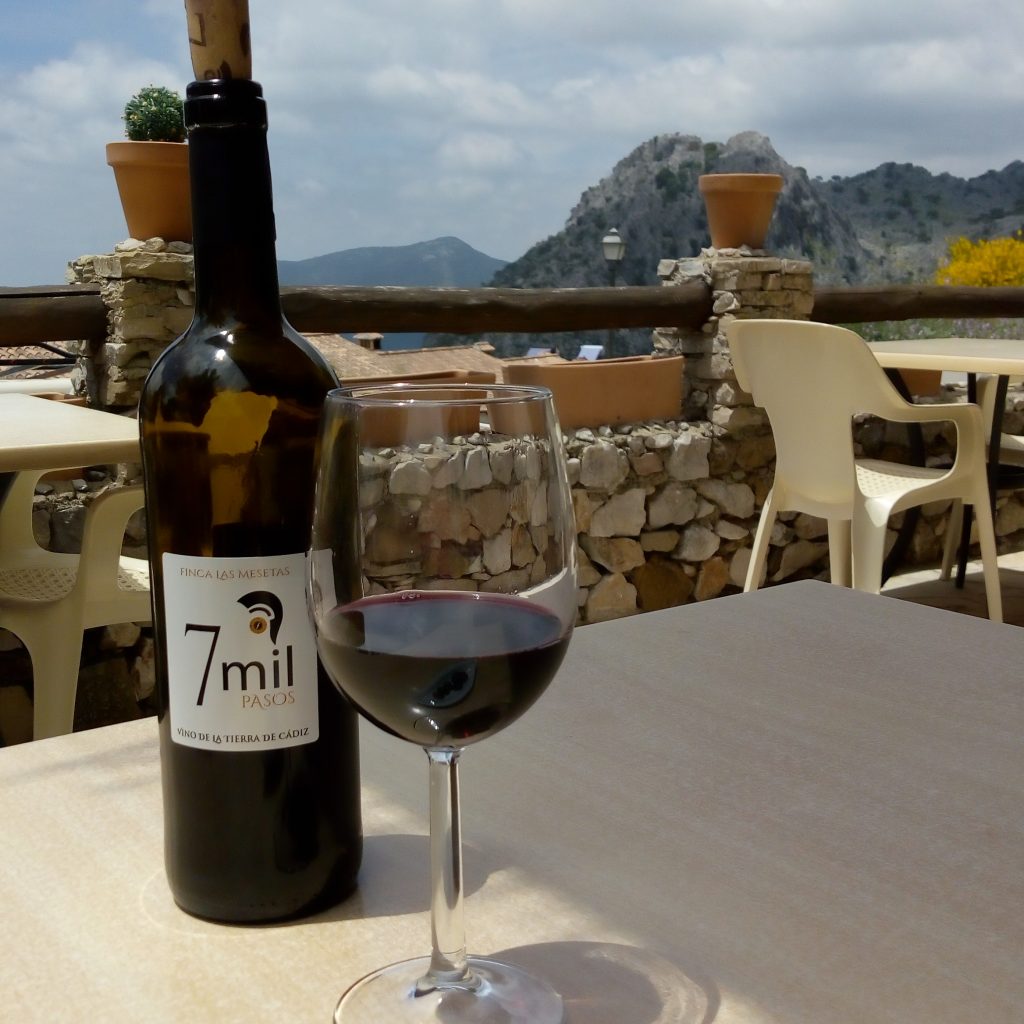 Main dishes at El Parral range from 7,90 – 11,90 Euros with delicious homemade desserts averaging between 4,00 and 6,00 Euros. Desserts and starters are easily shareable. I recommend leaving room for both!
Drinks
Both restaurants offer a good selection of local wines and sherry and El Parral also offers local craft beers. Non-alcoholic beer is also available.
Booking
It's always best to book in advance as these restaurants are popular and opening times vary. As a general rule, El Refugio opens from 12.00 until 17.00 Weds – Friday and again in the evening on Saturday and Sunday and El Parral opens from 12.30 – 16.00 and 20.30 – 22.30 Thursday – Monday. Times may vary during the summer months and during the pandemic. Remember to mention Rebecca at Travel Write Change when you make your booking.
Choosing
If you can't decide which one to choose, you can always stay overnight at Sierra Alta apartments and try out both! All apartments are self-catering and have either balconies or outdoor terraces from which to view the sunset. There's a salt water pool for the warmer months and a log burner or open chimney for the winter months. For more information or to make a reservation, please email: apartamentosalta (@ )gmail.com. Please mention Rebecca at Travel Write Change when you make contact. Click here for Sierra Alta Apartments Website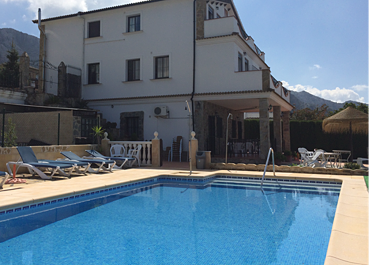 Eat out in Benaocaz; more information
Disclaimer
All opinions are my own and neither restaurant has asked me or paid me to write this review. I hope you enjoy them as much as I do.