Writing tips: Freedom, Vanilla, Customers and Story: 4 things that changed my perspective on branding for my blog
Writing tips: Freedom, Vanilla, Customers and Story: 4 things that changed my perspective on branding for my blog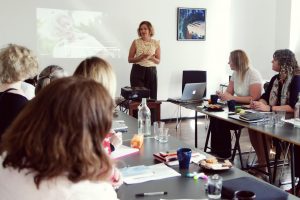 Over the last few years, whilst being self-employed, I have struggled with building a client profile and in the process, I've become allergic to the word "niche". I don't know how many times I've wished it would go out of fashion. It's not that I don't understand the concepts. I totally get it. As a teacher, I specialised in my subjects with learners coming to me to gain the skills required to pass specific examinations. I just couldn't apply this to what I wanted to do when thinking about it from a business and branding perspective.
Since changing from a monthly salary as a teacher to the ups and downs of the freelance world, I've had a lot to learn. There's been plenty of advice about choosing the ideal client and giving out a clear message.
While I've always understood on the surface what to do, it never really fell into place until the day I was sitting in Lidia's Drzewiecka's workshop listening to Lidia talk about branding. In one of those moments of inspiration, fuelled by Lidia's knowledge and perspective, it all became clear.
Not only have I gained more clarity around what I want to do, but I also feel that I could set up another business, describe an ideal client and create a message, colour scheme and brand essence for that company.
Have I suddenly turned into a female entrepreneur overnight? I think not.
Here are the four of the things that helped me gain that clarity:
1. The freedom to see things differently
I realised that Lidia's skill has freed me up to see things differently. I've become detached. My focus has shifted from internal to external.
One of the first things Lidia said in her workshop was
"Branding is not about you, it's about your customer"
I can relate this to teaching and learning – it's the same. Teaching and training is not about the teacher, it's about the learners. I have applied this philosophy thousands of times to workshops and the classroom, but it had never occurred to me to apply it to my freelance career. I was too busy focusing on my own doubts and worries.
2. Your branding should never be 'vanilla'
Lidia explained that branding should either attract or repel people. In other words, if people think your website is 'okay', you've got work to do! Your branding is the way you show up – the visual connection you make with your clients. People buy the experience they get and branding helps you influence that experience. If your brand isn't clearly defined, there's nothing for people to connect with and therefore they are less likely to buy.
3. Turn your story into your brand
Lidia started off the day by telling us her story and journey and the mistakes she has made on the way. She cleverly combined her story into the rest of the day's learning. When she wanted to highlight certain things she referred back to her 'mistakes' demonstrating how to improve.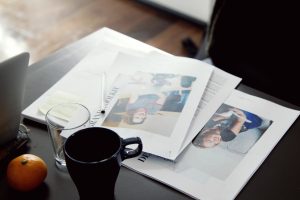 It's this honesty that warms you to Lidia and defines her own brand. She's authentic and genuine. She's made mistakes and is not afraid to share that. She was that 'quirky' photographer in the luxury wedding market, wondering why couples weren't buying her services when her photos were fantastic quality. She admitted that she was looking for customers in the wrong place. At the time, she didn't match what the luxury market client was looking for. She was fun and quirky, not luxury. This openness on Lidia's part made me feel okay about my lack of branding. I relaxed and opened up to learning.
4. Your branding belongs to your customers
Until I started to write this article, I hadn't realised what an enormous effect Lidia's way of looking at branding has had on me. Take this, for example: I recently posted a photo on Instagram. A friend rightly pointed out that it looked like a holiday snap and gave me some tips on using filters, reminding me in the process that what I publish online represents my business. I was grateful for the advice. However, after reflecting on it, I began to think it's actually the other way round. In other words, what we post online, needs to represent our readers, clients or customers, not ourselves. I now need to take a look at the message potential readers are picking up when I post. What do they want to see and hear? This will take some time, but I know it will be worth it long-term. Forgive me, if for some of you that's old news, but without Lidia's input, it may have taken me a while to work that out.
Lidia's passion for helping people to get this right is clear. She's professional, fun and brimming over with insights, knowledge and experience that make working with her a relaxed but productive experience
How I ended up on this workshop
For a while, I've known that my online presence needs a turn around and have approached a few website designers for advice. Recently, I came across an advert for a workshop called 'Defining your Brand'. Lidia Drzewiecka was looking for a blogger to participate in her workshop in exchange for a review. I contacted her and before I knew it, I had been signed up for the workshop.
What we did on the workshop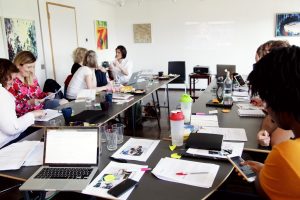 The workshop was divided into three sessions of 90 minutes with a break for refreshments and another for lunch. Lidia worked us through our brand value, identity and positioning giving us examples and showing us how to stand out.
Two things that stood out for me
Apart from Lidia's knowledge in her subject area, there were two other things that clearly stood out for me.
1. Lidia's research on her clients
Before attending the workshop, we had exchanged emails and had a chat on the phone. Lidia had already checked out my websites and I was impressed by this.
At the workshop it became clear that Lidia had researched all the attendees and knew something about everyone's products and services. I loved this personal touch and know that it's not common. It meant that Lidia not only had dedicated time prior to the workshop to us all, but was also able to make references to our businesses and provide specific insights to all of us throughout the day.
Lidia had researched all the attendees and knew something about everyone's products and services.
#2. Lidia's ability to visualise a brand
Lidia has an amazing capacity to visualise a brand. I felt that she was taking our websites off the page and helping us to see our brand identity as if it were 3D. The effect this has had on how I now see my business has been amazing.
So, what has changed?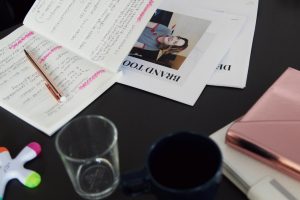 I've realised that while I haven't yet consciously set out to apply my learning, my subconscious has been working on it ever since I attended the workshop. I've started to become more aware of how businesses are sending messages out to their clients, rather than just focusing on what they are sending. And, I'm more conscious about my audience when I write, who I want to work with and what I can help with. (Oh! Is that my niche? 🙂 )
In short, Lidia's workshop has changed the way I think about my work, my clients and what, as well as how, to share with them. I have the freedom to look at it from a different perspective and can clearly see where my online presence needs improving.
I'm still reeling from the effect this workshop has had on me and I now realise that it's part of Lidia's skill. Somehow I feel like I have gained far more than the exchange rate.
I gained clarity, a sense of freedom with regards to perspective and the ability to clearly define an ideal client.
Find out more
If you are looking for help defining your brand identity in order to attract more clients, Lidia's workshop might be a great starting point for you.
You can find out more about Lidia's workshops and how to work with her and her amazing team here: Visuable
Disclaimer: I was invited to Lidia's workshop in exchange for a review. All opinions are my own.