Paella: A Taste of Spain at the South Glos Food and Drink Festival
Paella: A Taste of Spain at the South Glos Food and Drink Festival
Elena's Paella
Having not eaten paella for a while, I was really pleased to discover Ele's Little Kitchen at the first ever South Glos Food and Drink Festival this weekend.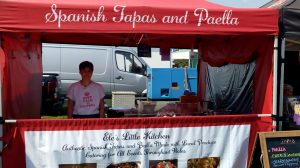 Ele – short for Elena- is from Murcia in Spain and uses authentic Spanish ingredients such as pimentón (paprika)in her paella. I was hoping to try the seafood version, but unfortunately, it had all sold out. So, I ordered the chicken one and watched Elena cooking it in the sunshine.
Elena started with the vegetables, followed by the chicken, paprika, salt and water. When the water was boiling, she added the rice, spreading it evenly in a cross shape over the paella pan.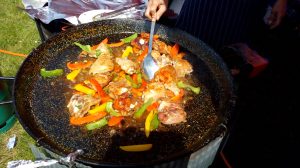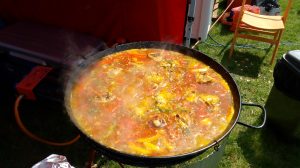 Somerset Charcuterie
While the rice was cooking, I wandered off to have a look around and discovered another Spanish-influenced product made in Somerset. Tastings were going on for the Somerset Charcuterie range of chorizo and salchichon.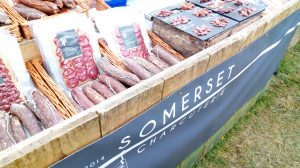 Chorizo has a become a popular ingredient in Britain. However, salchichon – a cured Spanish sausage similar to salami – is not so well known.
I love salchichon (pronounced sal- chee – chon – the 'ch' is like the 'ch' in church) and have to say that I have a weakness for the small business, homemade, locally produced versions.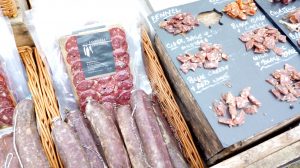 Our neighbour, Isabel, in Spain makes a fabulous salchichon and it's hard to beat that wonderful taste of fresh black pepper. However, I have to admit, I was massively impressed with Somerset Charcuterie's homemade product. I tried the black pepper and garlic salami and discovered that it was a really tasty authentic version and is definitely comparable to Isabel's (sorry Isabel, but it was really good!).
If you're looking for a locally produced Spanish-style, cured meat, I would highly recommend this salchichon – black pepper and garlic salami.
The rice is ready
I headed back to Elena's stand to collect my paella, to find that I was just in time as she had sold half of it and was starting to make a fresh one. She served up my portion complete with two chunks of bread – the Spanish rarely eat without bread – and I was ready to go.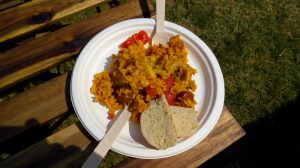 Cooking paella is a skill (one that I have yet to achieve… ) and so I admire anyone who can cook large portions of this dish and get the rice just right. The texture and taste of this paella were perfect and sitting in the heat of a glorious May weekend, my taste buds and I were whisked off to Spain in an instant. Well worth the 40-minute wait while it cooked.
Shopping for paella ingredients in Bristol
If you're looking to buy the seasoning to make your own paella, you can find them at the Spanish deli El Colmado on Gloucester Road, Bristol.
The South Glos Food and Drink Festival
I really enjoyed this event and felt that there was a great balance of food, drinks, crafts and entertainment. I was pleased that this was a free event as people seem to be more willing to spend on the local businesses that have worked hard to get there and, I feel, deserve the custom.