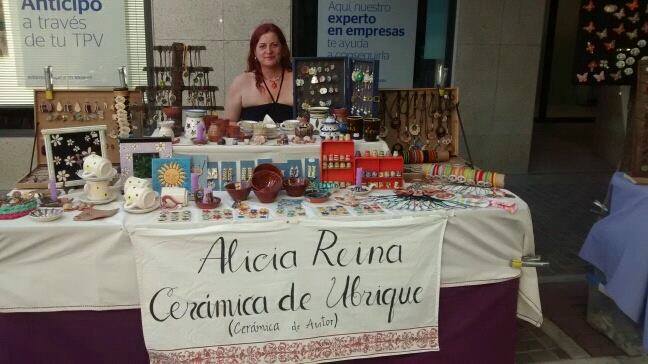 Alicia in the land of ceramics
Alicia in the land of ceramics
At 5.00 pm the white hilltop town of Ubrique is just beginning to start all over again. During the mid-afternoon heat the locals shut shop and go indoors for lunch. Now, the town is getting ready for the evening. The shops open their doors again and the bars and cafes start to fill with people drinking coffee.
A tree-lined avenue provides shade and a home for the chattering birds. It takes you through the more modern part of town before winding up the hill into the old town. The hustle and bustle of Ubrique is a completely different atmosphere from the tranquillity of the white villages. I drive around trying to find a parking space. I've arranged to have coffee with Alicia, the local ceramist.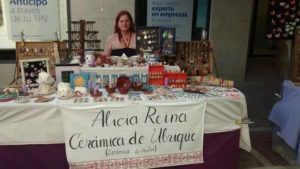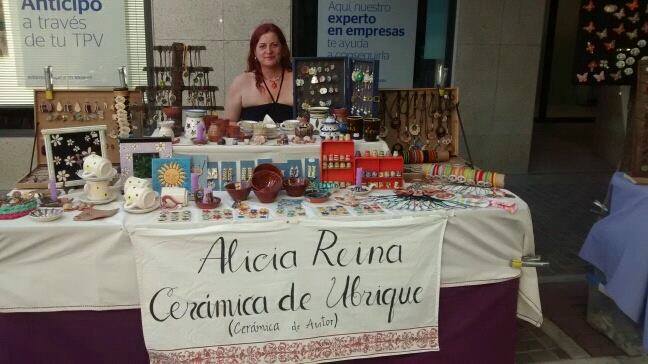 I first met Alicia some years ago, in Grazalema at a craft exhibition. She was giving demonstrations on her potter's wheel. I had always had a desire to learn to throw clay and readily rolled up my sleeves to have a go. Alicia's patience and never ending cheerfulness were amazing as I clumsily tried to hold my piece of clay in the centre of the wheel. Alicia sat next to me, propping up my lump of clay and rescuing it every time it fell, with her expert hands. It became evident that I would need much more practice when Benjamin sat down for his turn. Within a couple of minutes Alicia had let go of the clay and left him to it, commenting that he was a natural.
I finally park and meet Alicia. We sit down in the busy pedestrianised street. The streets are lined with tables and it takes us a minute to find a spare one.
After ordering our coffee, Alicia tells me her story. I strain to hear over the noise of clinking coffee cups, singing birds, children playing and people talking. It's hot for the time of year. The heat rises from the pavement which is still warm from the day's sunshine.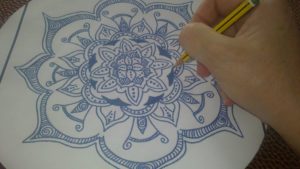 In the year 2000 at the age of 33, Alicia started her ceramic course in Cadiz. She'd decided to embark on a new life after a relationship broke up. She had always loved pottery and decided to pursue her passion. Alicia regards her potter's wheel as active meditation. A connection with herself. She finds it therapeutic.
"I spend hours and hours in the workshop. Time goes by. It could be Saturday or Sunday, but I love it in there."
Alicia now teaches her skill to others. Her pupils, she tells me, leave her classes feeling relaxed and having enjoyed themselves.
When we have finished our coffee, I accompany Alicia to her studio. She has a three-storey town house. The bottom floor serves as her workshop and display area for clients. She lives on the middle floor and has another apartment with a terrace leading out to a view of the mountains on the top floor. It's great for anyone who wants to take a course in pottery and needs accommodation.
Miranda, an Australian lady, recently stayed in this apartment. Miranda combined a visit to Spain to learn about the language and the culture with a pottery course. A perfect way to learn the language without having to attend formal language classes. I met Miranda, when I popped in earlier in the week to pick up some bespoke gifts Alicia had designed for the writing retreat. Miranda was having a fantastic time and I was reminded how much fun learning a language is through another activity.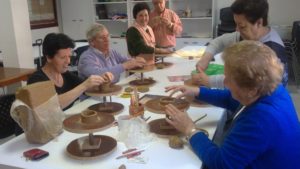 When we arrive at the studio, two of the students are waiting outside. We go inside and they settle down. Even though it's an adult class, Alicia tries to contact the two that haven't turned up yet. Her concern for her learners is evident. One of her pupils thinks that one of the ladies has a mother who isn't well and won't be coming today. There is clearly a feeling of companionship in this special space. These ladies care about each other. They chat, they share news and offload their problems. They worry about each other, they empathise and they make each other laugh.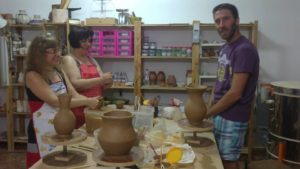 When I ask why they come to the class, a lady called Inma tells me it's "Because I love arts and crafts".
She backs this up with a huge smile before starting work on the tile that she is decorating.
"Which colours would you like?" asks Alicia showing her a tile with a selection of colours.
Inma decides on her colours and sets to work painting the tile she has designed.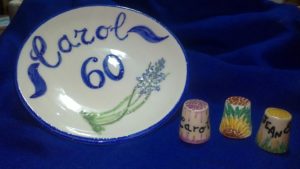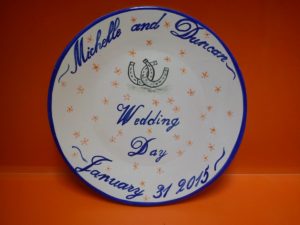 While Alicia is showing Marta how to make the handle on her mug, the door opens and Teresa bursts in. She chats to everyone as if they were long lost friends, including me. She comes to "get away from the stress in her life" as she finds the classes distract her from the daily tasks of looking after family members. The ladies talk to each other and ask me questions. It's clear that these classes are a social event as well as a learning opportunity.
I make my way out of the door amongst cries of "come back soon."
I smile to myself as I walk down the road. I haven't even picked up a piece of clay and the feeling of wellbeing has been contagious. I make a mental note to do one of Alicia's courses one day. I just hope she has enough patience.
In case you are wondering, for the handmade gifts on the writing retreat I ordered a bookmark.


I collect them wrapped up individually in small paper bags ready to go and I generally leave them with the welcome pack for my guests to open when they arrive. For this year's gift, I have another idea, but that's a surprise waiting to be revealed.
To see more of what Alicia does, click here: