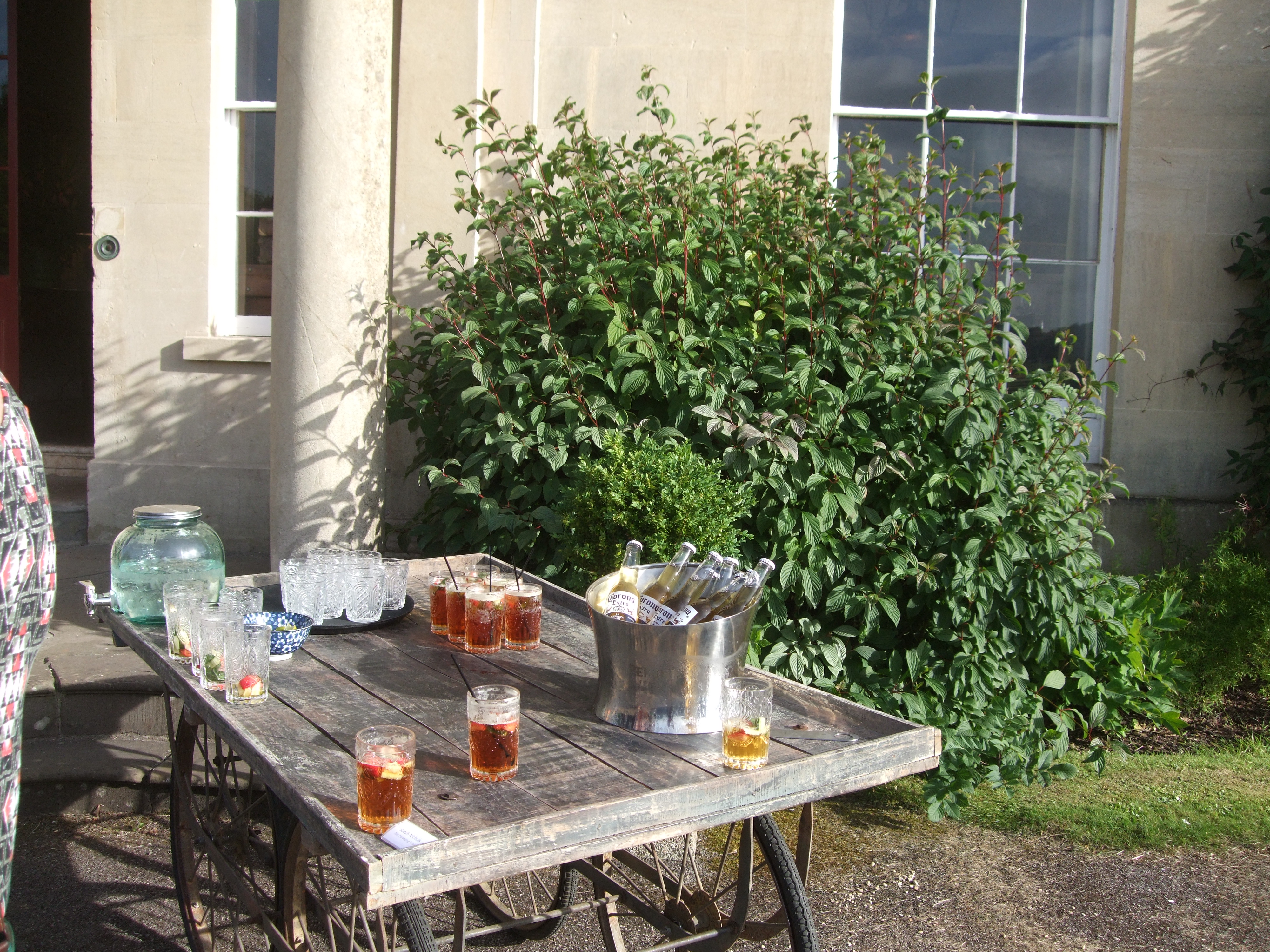 Five reasons to choose Backwell House as the perfect writing retreat venue
Five reasons to choose Backwell House as the perfect writing retreat venue
This summer I was invited to spend an evening at Backwell House boutique hotel near Bristol with the Bristol Bloggers group. I was keen to visit this nine-bedroom country house hotel, featured in the magazine Great British and Irish hotels 2017-18, as clients often ask me to recommend a retreat venue. My first impression, after spotting Backwell House from the woodland driveway, was that I was in for a treat. We had an amazing evening at the event and here are five reasons why I liked it.
1. Attention to detail
When looking for a retreat venue, for me there must be a wow factor, something that your guests may not have expected, or even if they were expecting it, it still makes them say wow". While Backwell House has all the style of a Georgian house set in beautiful countryside, what really makes it special as a venue are the important little touches that give added value and comfort to your guests. It's about making the experience special and the team at Backwell House know just how to do this. For me, Backwell House is a lifestyle choice in a venue setting.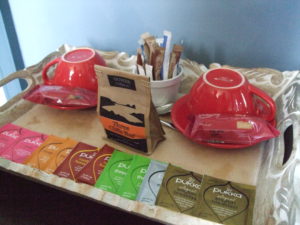 From the coffee pot and Fairtrade sustainable ground coffee in the bedroom, the fresh wild flowers on the dining table, the organic kitchen garden, local products and free-range eggs from their own chickens, it's all about giving you the quality treatment that you and your retreat guests deserve.
2. Fine dining experience
As far as possible the food is raised or grown on the land surrounding the hotel. While this adds to the postcard image, you can also be assured that if you choose a meat dish, the herds had once been happily grazing freely in the surrounding woodlands and hills. Seafood is sourced from Devon and any other food supplies are obtained locally from farmers in North Somerset. The delicious bread that was served with our meal comes from a local baker and the butter is homemade.
The stunning Victorian kitchen garden provides chef, Ross Hunter, with the organic herbs, and vegetables he needs for his dishes. Ross is an experienced chef and brings a unique combination of fresh local ingredients, flavours and style to the table.
My three -course dinner started with Brixham Crab with beetroot, apple and nori seaweed. The combination of colour and texture were amazing.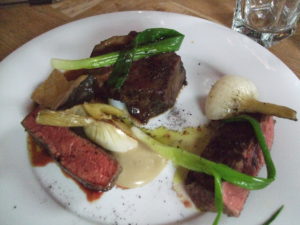 Next Ross brought out a tasty 60-day Hereford Sirloin, Alliums, King Oyster Mushroom, Beef Jus with ox cheek which was cooked to perfection. Ross had obviously taken his time preparing this dish. While the ox cheek, a difficult dish to cook, was a perfect melt-in-your-mouth texture, I felt that it would have benefitted from more sauce. However, that maybe due to the fact that my experience of ox cheek is in rich Spanish sauces.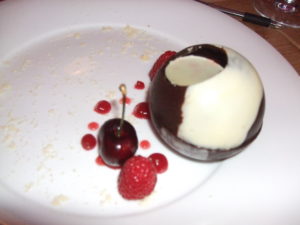 The meal ended with some delicious freshly made desserts, which were much appreciated by the group, and the cheeseboard with local cheese, which was a perfect choice to finish off the meal with a glass of red wine.
3. Space
Rooms
Each room is unique and decorated differently, adding charm to the visit and making guests feel special. The rooms are named after someone who had either lived at the Georgian House or was in some way related to it. For an extra touch of charm and luxury, choose a room with a free-standing bath which means you can take a dip while admiring the view through the French windows. The rooms are imaginative, with headboards upcycled from the wooden floorboards, and luxurious at the same time.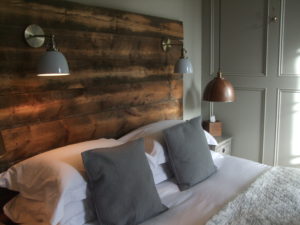 Rooms are clean, comfortable and well provided with tea and coffee making facilities and have an impressive view of the surrounding area. Local ethical company Bramley provide the natural toiletry range.
Outdoor space
The woodland area is ideal for walking while the back of the house leads you out to the flower and organic kitchen garden. There's plenty of space for outdoor activities, a marquee or tepees.
Indoor space
If you need space for workshops, activities or therapies, the dining room is available as well as a small cinema room in the old cellar. The breakfast room is a bright, airy and spacious room that could easily be converted into a space for workshops. There are plenty of tables, comfy chairs and seating areas making it ideal for a writing retreat where participants might need individual space.
Local coach Sarah Clark, from Mariposa Coaching, has participated in one of Backwell House's events. Sarah said,
Backwell house is a beautiful venue steeped in history. Mariposa Coaching has been lucky enough to have a stand there on a regular basis at The Art of Wellbeing, a pop up wellness event. I have offered coaching tasters at a stand in their beautiful dining area with Georgian charm. Plus, talks on sustainable wellbeing, positive thinking and harmonious relationships in their cinema area which provides a relaxing and cosy event space. They even have a walled garden with doves in the dovecote.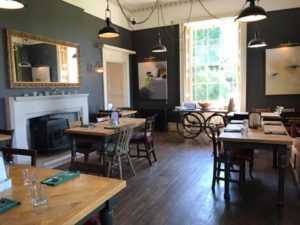 4. Location / Easy access
Looking out over the countryside, you would have no idea that Backwell House is so well connected by road and air and is only 15 minutes' drive from the bustling city of Bristol. Tucked away on the A370 in North Somerset, it's easy to miss the beautiful wooded driveway that winds up into the grounds, taking you away from the main road.
The M5 and the M4 are both within easy reach and there is ample parking space. While Bristol International airport is only three miles away, making it easy for guests to arrive from many destinations, the venue is not on the flight path, meaning you can enjoy time here without aeroplanes flying overhead. It's a ten-minute walk to the local pub and shops and a bus to Bristol stops on the main road if you'd like to visit Bristol, but don't fancy driving.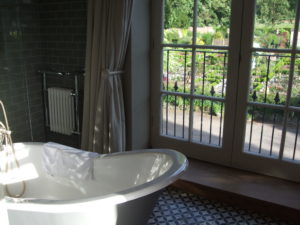 5. Labour of love
The story of this hotel is an interesting one as director Guy Williams spent three years living in a caravan in the grounds of the Georgian house as the project developed. His love for the hotel and grounds shines through as he talks about how it was restored. Where possible, Guy has upcycled and reused the building's original materials in the project. Very little has gone to waste. The bar contains reclaimed wood from the floorboards and Guy carefully put the mosaic pattern together himself. It seems everyone is involved – his mother made the curtains for the venue – and his passion has infected the rest of his team.
Guy has chosen his team well. He wants the best when it comes to providing a homely and comfortable, yet sophisticated and luxurious ambience. Guy has plans to make Backwell House bigger and add more rooms. I just hope that the expansion doesn't mean losing the quality that he's built up so far.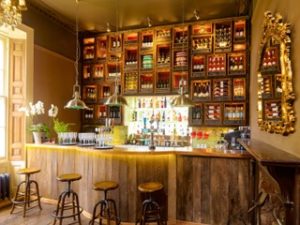 Would I hold a writing retreat here?
The answer to this question is yes. All in all, I loved the way the team looked after the personal touches at this boutique hotel. At the time of writing this post, the hotel has only nine rooms and there's definitely an air of relaxed sophistication here. Local products always score a high for me and the chef is more than capable of catering for all requirements.
I feel like it's the sort of venue where you could leave your walking boots by the front door and change into your indoor shoes as if it were your own home, while enjoying the luxury of being looked after. The team would like you to feel at home and will happily provide drinks on the lawn on long summer evenings or cocktails around the fireplace in the winter.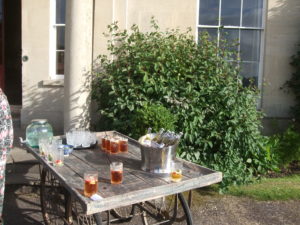 If you decide to hold a retreat here, bear in mind that unless you book the whole venue, you may come across other guests either staying or dining at the hotel. I recommend that you, or your retreat event manager, visit any venue before booking to get a feel for the place to make sure that it's right for you and your guests.
What you need to know
Room prices from £95 to £245 per night B&B
Menus start at £29 for 2 courses. £35 for 3 courses
Free parking
Website: www.backwellhouse.co.uk
Contact details: enquiries@backwellhouse.co.uk / 0117 325 110
Address: Backwell House, Farleigh Road, Bristol. BS48 3QA
I enjoyed a complimentary evening meal at Backwell House as a guest at the Bristol Bloggers event. All opinions, as always, are my own.
This post was first published on www.europeancoachingretreats.com