Retreat venue Spain; 5 reasons to choose Sierra Alta
Retreat venue Spain; 5 reasons to choose Sierra Alta
Five reasons to choose Apartamentos Sierra Alta as a venue for your retreat in Spain
When it comes to choosing accommodation or a retreat venue in Spain, you could be spoilt for choice, so how do you go about making a decision? You want your guests to be comfortable and get the Wow! factor in a special location.
Since 2013 our friends and family have been staying in these wonderful apartments nestled in the beautiful backdrop of the Sierra de Cadiz mountain range in Andalucia, Spain,
Since 2014 we have been hosting an annual writing retreat here. We really love these apartments as a retreat venue and not just for the quality of the accommodation – there's something special about the surroundings too.
Here are five reasons why I think these apartments are special and make a great retreat venue.
1. Location
If you have read my article about Backwell House, then you will know that when I'm looking for a retreat venue, for me, there must be a wow factor. Something that your guests may not have expected and makes them say "WOW!".
Here, the location really is a wow factor in itself. Sierra Alta is on the edge of the little village of Benaocaz at almost 800m above sea level. It's surrounded by mountains and there are amazing views. Some stunning sunsets can be seen from the apartments as the sun goes down behind the mountain known as 'La Silla' (The Saddle).
'This place is magical'

Martine Louis, Money coach and retreat guest

Martine was still approaching the village in the taxi when she uttered her first "Wow!"
2. The apartments make an ideal retreat venue
There are six apartments in total making this a small and cosy place to stay.
Each apartment has either a balcony or a terrace giving you a great view and some outdoor space. There are two two-bedroom apartments and two one-bedroom apartments which would comfortably fit ten people on a retreat (if participants share a bedroom, you could take up to 14).
Each apartment has a lounge area with a kitchen and a bathroom with a walk-in shower. There's air-con if all gets a bit too hot in summer and they are centrally heated for cosy winter stays, which, believe me, you will appreciate in the evening if you stay here from November to March. There's also a fireplace and logs are on sale in the village if you fancy a cosy fire. My experience with log fires here depends very much on the way the wind is blowing! And, unless you are an expert at lighting fires, I would recommend popping up to the restaurant Posada El Parral to enjoy their log fire instead!
The apartments are clean, comfy and equipped with basic cooking equipment. While there's only a two-ring electric cooker, it's fine for cooking a simple meal or breakfast when you don't feel like eating out. If you go away on retreat or holiday to cook like a pro, this probably won't suit you. As an extra bonus if you are travelling light, a washing machine and ironing facilities are also available if you wish to wash your clothes and dry them off in the sunshine before you go home!
3. Carlos and Maria
This is point number three, but actually, hosts Carlos and Maria are one of the main reasons why your stay at Sierra Alta is so special. Not only are they friendly and welcoming, but they have also put a lot of thought into making your stay comfortable. Their thoughtfulness and personal service shines through and is one of the things I love most about them. If they haven't got what you need, they'll do their best to sort it out for you. And while they are never in your way, they are always on hand if you need anything and are quick to spot a way to improve their service. Nothing is ever too much trouble, making this ideal as a retreat venue as you can be sure your guests will be cared for. They pay attention to the little touches that, for me, are so important, yet so often get overlooked.
Carlos and Maria are always making improvements. Last year our guests arrived to find hairdryers in the bathroom and two newly built barbecues in the garden area. This year the venue started to provide pool towels for guests (at no extra cost). After realising that many visitors (particularly those who arrive in Spain by plane with hand luggage only) weren't bringing pool towels with them, they decided to invest in some for guests' use. These are the little touches that I believe give added value and comfort to your guests.
4. The pool and outdoor area
The natural backdrop in the area is amazing and Carlos and Maria have created an outdoor space that is relaxing and laid back. Sun loungers around a salt water pool, sun shades and a seating area where you can admire the view, use the space for a workshop or watch the sunset with a glass of wine if your not watching it from your balcony.
Carlos maintains the pool and keeps it clean all year round meaning that if you are brave enough to swim in December you can, – the pool is unheated and even in summer, it can sometimes be a challenge to get in – but more importantly it means that it's aesthetically pleasing all year. It always looks beautiful whether you are sitting around it or admiring it from your balcony.
Our retreat is in September to enjoy the good weather (and the pool), but if you are here in December or January the pine tree outside the front door is light up for Christmas and New Year. At the end of January or beginning of February you might even get to see some snow! If you are here at the beginning of February, you'll also get to see the annual local festival in celebration of the Patron Saint, San Blas
5. The ambience
Thanks to the beauty of the natural surroundings and Carlos and Maria's efforts and good taste, there's a very special atmosphere here that's difficult to beat. It's not just your normal apartment block. It's hard to explain, but there's a sort of magic to the surroundings. While it's generally peaceful, you will probably hear the donkey braying, cockerels crowing and perhaps the church bells, along with the tinker of goats' bells if they happen to pass by. A few dogs might be barking in the distance, but it all adds to the atmosphere and won't disturb the peacefulness.
Will we continue to hold our retreat at this venue in Spain?
We most certainly will! Our guests love it and so do we.
In September 2018, we will be running our fifth retreat here and every year the venue holds its magic. It's a beautiful location and ideal if you are looking for a retreat venue in Spain. The mountains are a big wow factor for our guests. Apart from the natural surroundings, one of the other wow factors for me here is that I always feel like I am the first one to ever use the apartment.
If you decide to hold a retreat here, bear in mind that unless you book the whole venue, you may come across other guests staying at the apartments. This has never bothered us as the type of guests who come here tend to be looking for peace and quiet or are off hiking all day. However, that said, during the school summer holidays it is likely to be a bit nosier (in Spain that includes the whole of July and August) as families enjoy the pool and the warm evenings on the terrace.
I think it's always a good idea for you, or your retreat or event coordinator, to visit any venue before booking to get a feel for the place to make sure that it's right for you and your guests.
What you need to know about your retreat venue in Spain
Prices: start from 70 Euros per night for a 1-bed apartment for 2 people
Parking: free
Nearest airport: 1 hour 20 minutes from Jerez airport / 2 hours from Malaga airport / approximately 1.5 hour from Seville airport / 2.5 hours from Gibraltar
Public transport: a bus runs twice a day to Ronda, Malaga and nearby Ubrique
Taxis: Local taxi firm in nearby Ubrique will do airport pick up by prior arrangement
Website: http://www.sierra-alta.com/
Contact details: You can email Carlos and Maria at: apartamentosalta@gmail.com (Remember to let them know you read about the apartments on Rebecca's blog!) or contact me to make a booking for you.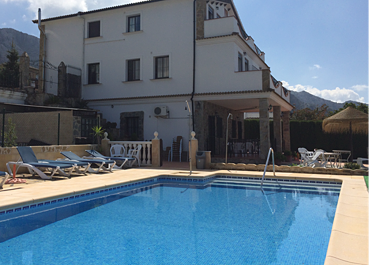 This post was first written in October 2017 and updated in 2021