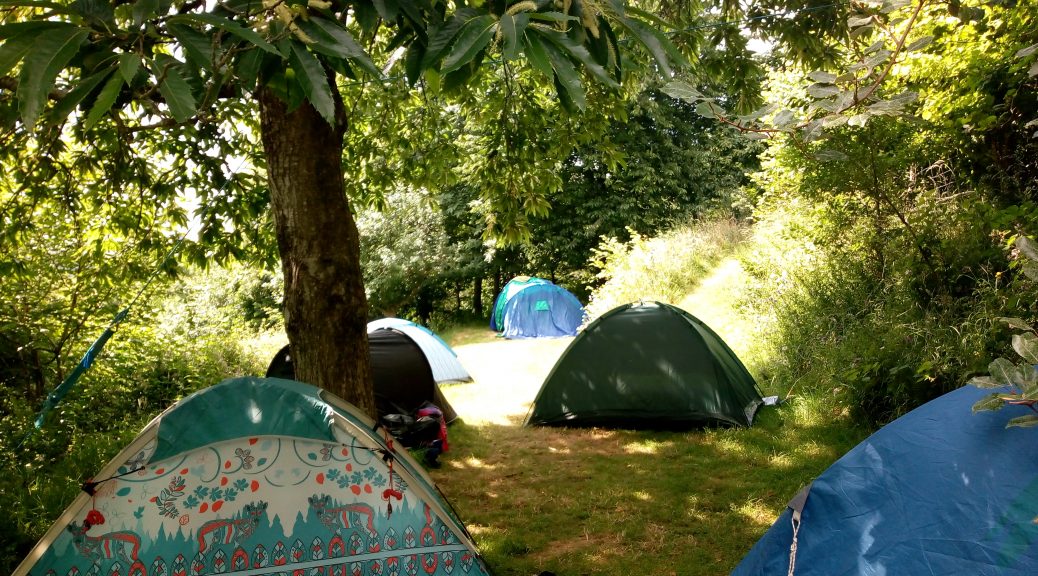 Eco-camping in Devon; a weekend at an eco-campsite
Eco-camping in Devon; a weekend at an eco-campsite
A weekend at an eco-camping retreat
This summer I went to Tiverton for a weekend of eco-camping in Devon at Coombe Farm. Never having visited an eco-camping retreat in the UK before, I wasn't sure what to expect.
Narrow country lanes led us to the entrance of Combe Farm and a spectacular view across the countryside.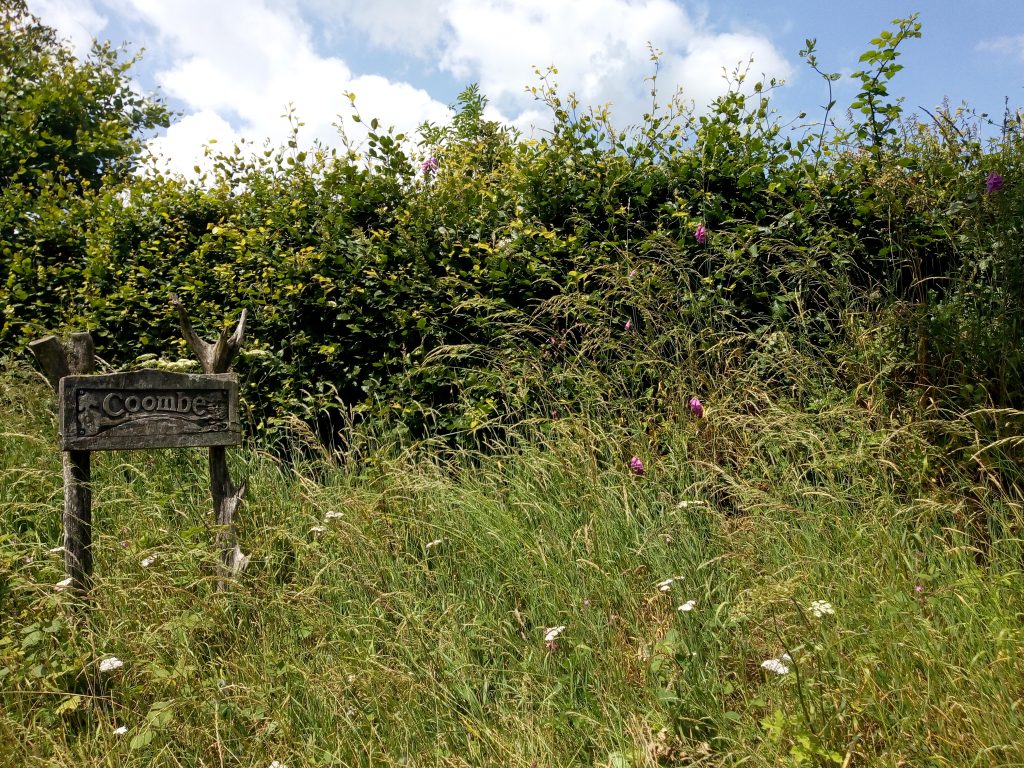 From there, a steep hill took us down to a parking area where we were able to park and forget about the car for the weekend. After unloading our camping gear (there was a wheelbarrow to help us move it from the car to our camping spot), we walked straight into a natural paradise.
What is eco-camping?
I discovered that eco-camping at Combe Farm in Devon, otherwise known as Michael's Valley, is a little like wild camping, except that here you have access to clean running water, a kitchen, a tipi with a log burner, a wash area, a shower and a compost toilet. The only electricity available is a socket in the kitchen area, so torches and lanterns come in handy.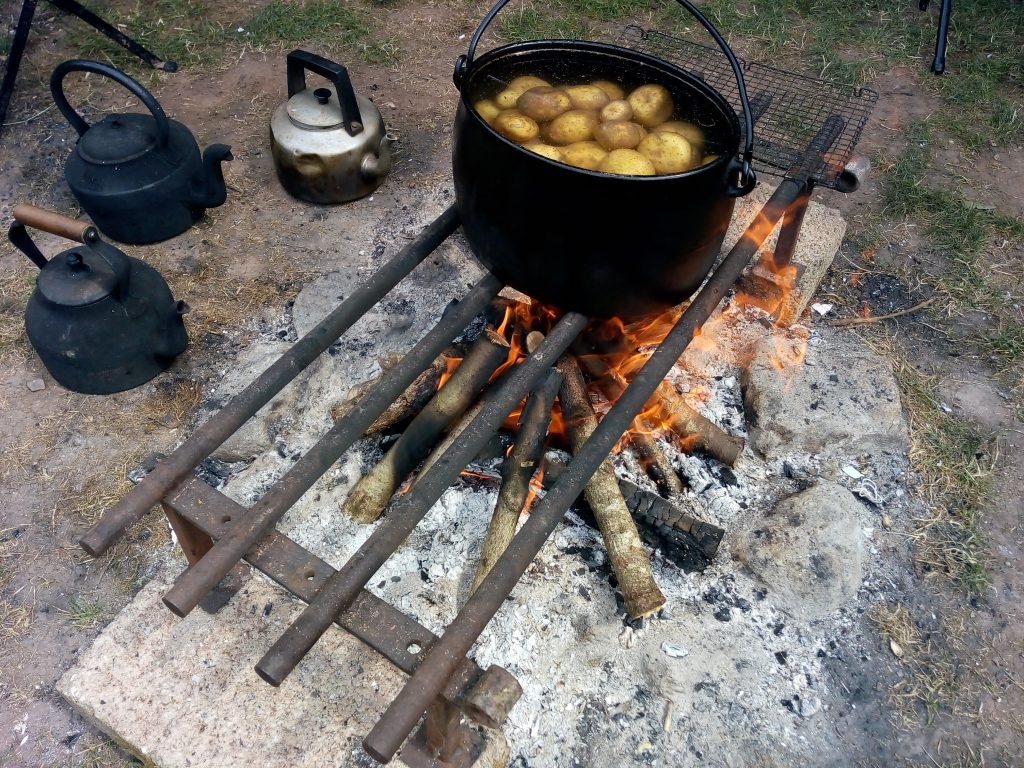 Looking after the environment while eco-camping in Devon
Environmentally friendly products for hand washing and washing up are available and we were asked to use chemical free products and toiletries.
The outdoor shower experience
The outdoor open air shower is located in a secluded spot somewhere near the stream. I got to shower (with hot water from a gas bottle) while listening to the birds singing and the gentle movement of the water running in the stream. There's a cover around the shower area and a bench inside, giving you plenty of room to shower without getting your stuff wet. If you've never had an outdoor shower before then this is an experience not to be missed.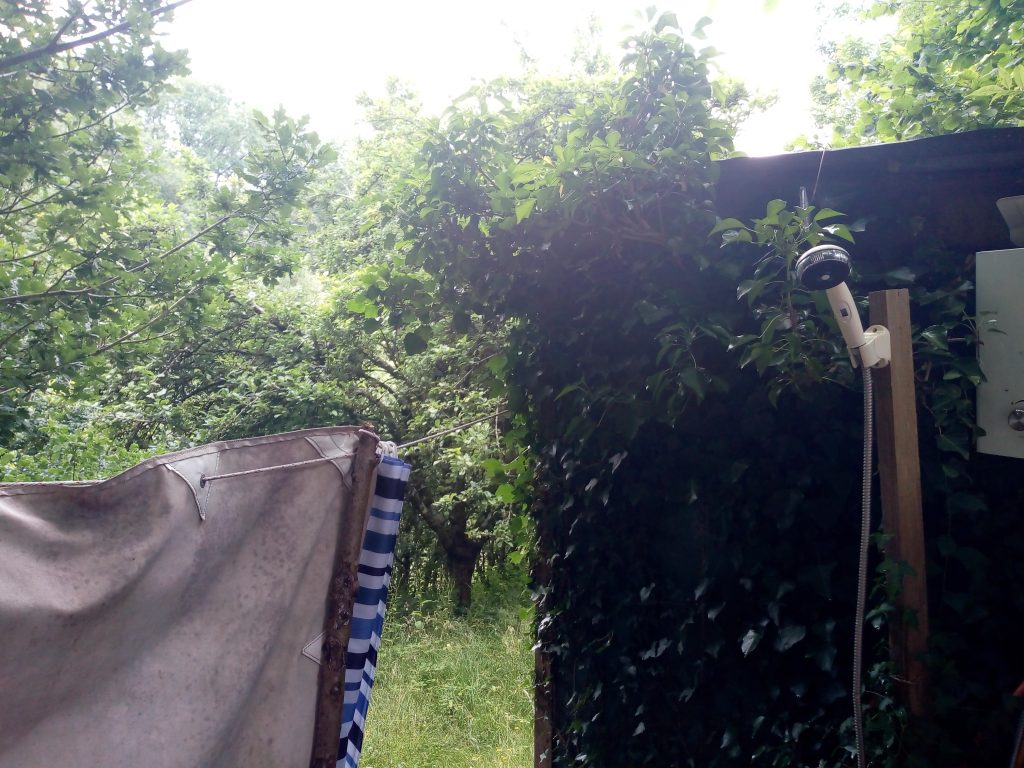 Who is eco-camping for?
Anyone who loves being outdoors. This a space to connect with nature. It's for people who enjoy camping, outdoor cooking and greenery.
It's not for those who are looking to experience a four poster bed, a spa and to be waited on.
At an eco-campsite, the luxury is in the beauty of the surroundings, doing things with a group of like-minded people, relaxing round the camp fire in the evening, looking out for the wildlife and walking around in bare feet if you feel like it. Taking part in the cooking and feeling part of a community are part of the enjoyment.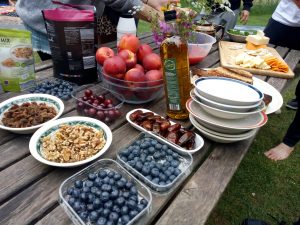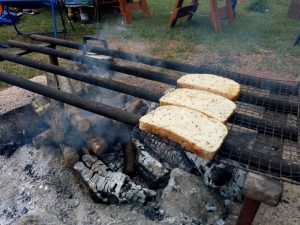 It's a great place for a wellness retreat as not only is it peaceful, but it's also in the middle of nowhere. You can't hear traffic or other noise that may be considered stressful. Everywhere you look, it's beautiful and there's so much space to do things.
What can you do on an eco-camping retreat?
The space is ideal for anyone who fancies an outdoorsy type of weekend. There are some activities such as a trampoline available and some walks within the valley.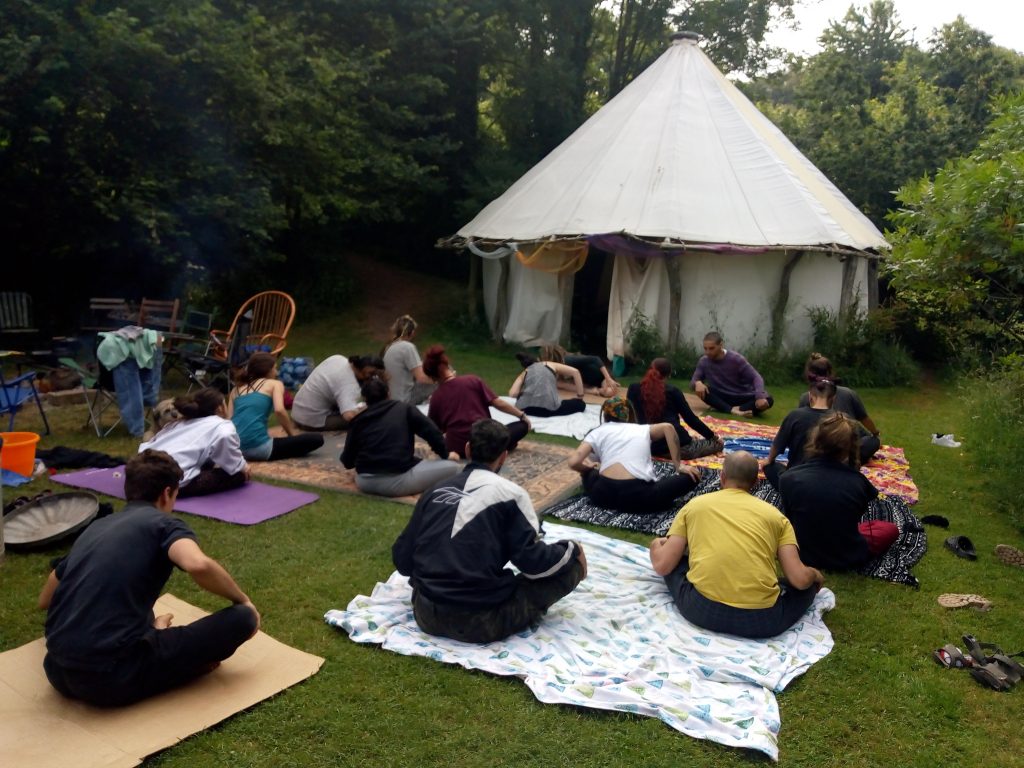 Groups can take their own materials and activities, so this ideal for workshops that can take place outdoors.
What our group organised
Our group organised a morning yoga session, various art workshops, a 'batucada' (drum and percussion session) using drums and the metal recycling bin lids and free time to wander, swop ideas or just chill out.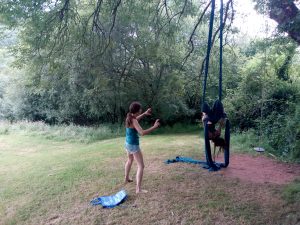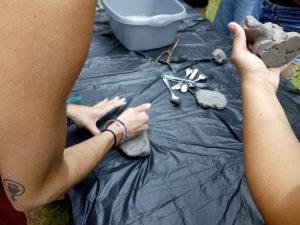 A tightrope was set up for practising balancing skills and a rope swing for acrobatic skills (Please note that all these activities were organised by experienced monitors and should not be tried without the appropriate expertise).
In the evening we watched a silhouette theatre performance rigged up with a white sheet and a light and the poet in the group read us some of his work. Some members of the group had also taken a mobile sound system, so we had background music, microphones and the odd spot of dancing.
Where do you sleep?
Take your own tent or use the tipi. You will need warm bedding – it gets damp at night – and an airbed if you like a bit of comfort or a sleeping mat.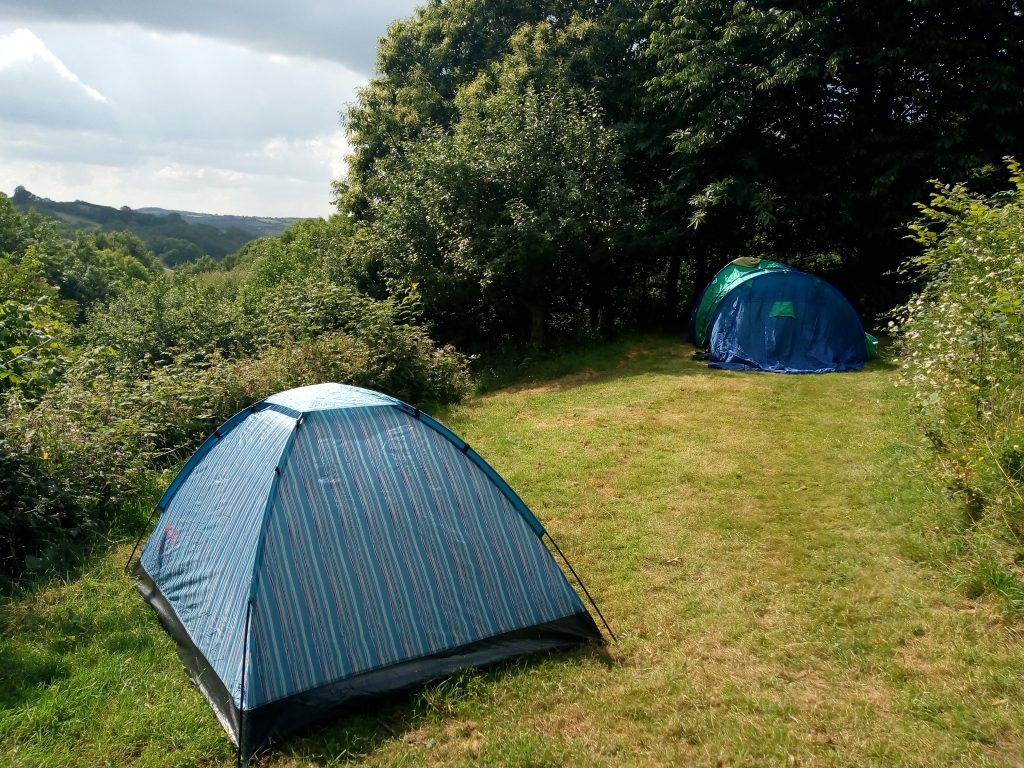 They valley has been levelled out to provide flat spaces to camp in. You can set up your tent in any of the levelled areas. The grass around has been left to grow long for the wildlife and bees.
What you don't need to take
Michael's Valley has a very well-equipped kitchen with all the utensils, pots, pans and plates you need to cook for a group along with a large collection of mugs, glasses and reusable plastic cups. A four ring gas cooker and a food preparation area are all undercover. For those lovely summer days or evenings when you can outside, there's an outdoor fire area for cooking on. Firewood is also provided.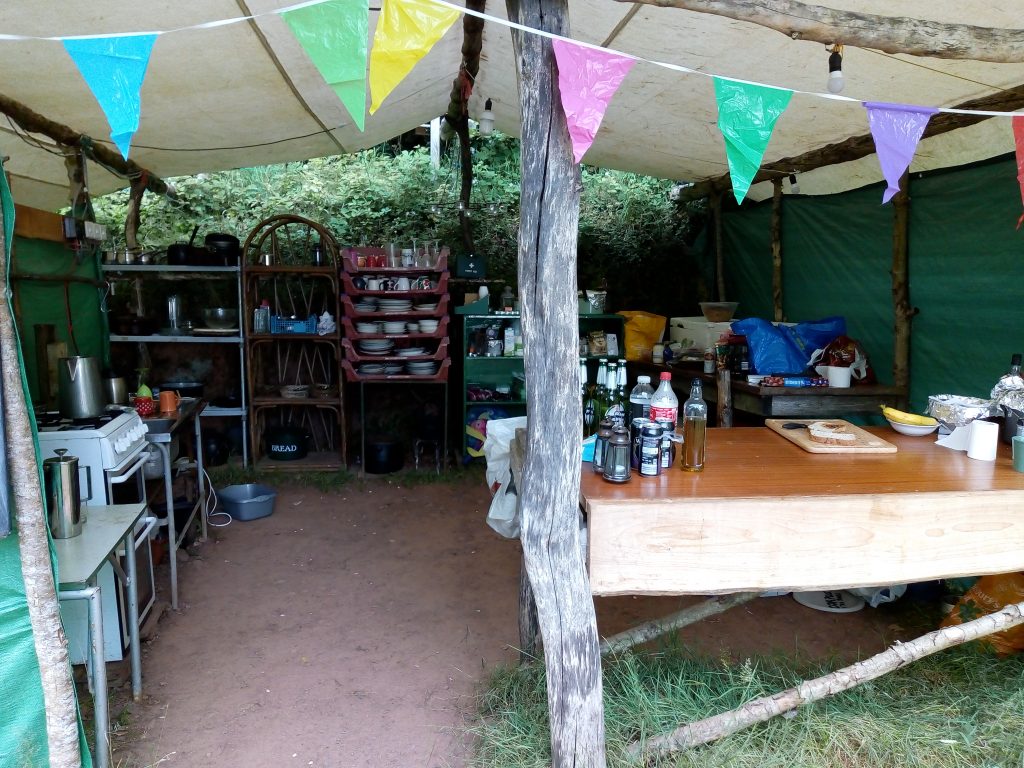 The kitchen is a vegetarian area. Any guests who wish to cook meat are asked to bring their own utensils and to use a different fire.
What you might like to take
Something to sit on – camping chairs, picnic blankets or similar
Torch – a wind up torch if possible
Warm clothes and plenty of warm bedding
Adequate footwear, flips flops for showering
Food that doesn't need to be in the fridge
A cool box – there's no fridge although you could plug an electric cool box into the socket in the kitchen
Chemical free toiletries and sun cream
Footballs and other games
How to find out more about eco-camping in Devon
Michael's Valley has a Facebook page and a website coming soon.
Ella, the owner, and the friends she runs this with are all very helpful and on site should you need them. They leave you to get on with your activities and enjoy the space asking only that you respect the wildlife, leave everything clean and tidy and take home your landfill rubbish. There are various bins to leave your recycling waste.
Michael's Valley is open to groups and makes an ideal place to celebrate a special event, a group activity, workshop or wellness retreat.
Prices
Prices start from around £10.00 per person per night and there's room for up to 50 people.
For more thoughts on running your own retreat, check out my post 10 Reasons Why you Should Run a Retreat
Disclaimer: Michael's Valley had no idea that I was writing this post. Actually, neither did I until I was half way through the weekend. Feeling relaxed after all the fresh air and delicious vegetarian food, inspiration struck as I realised it was an ideal spot to write about. All opinions are my own and, somewhat biased, as I thoroughly enjoyed my weekend in this lovely space.
See you anon,
Rebecca