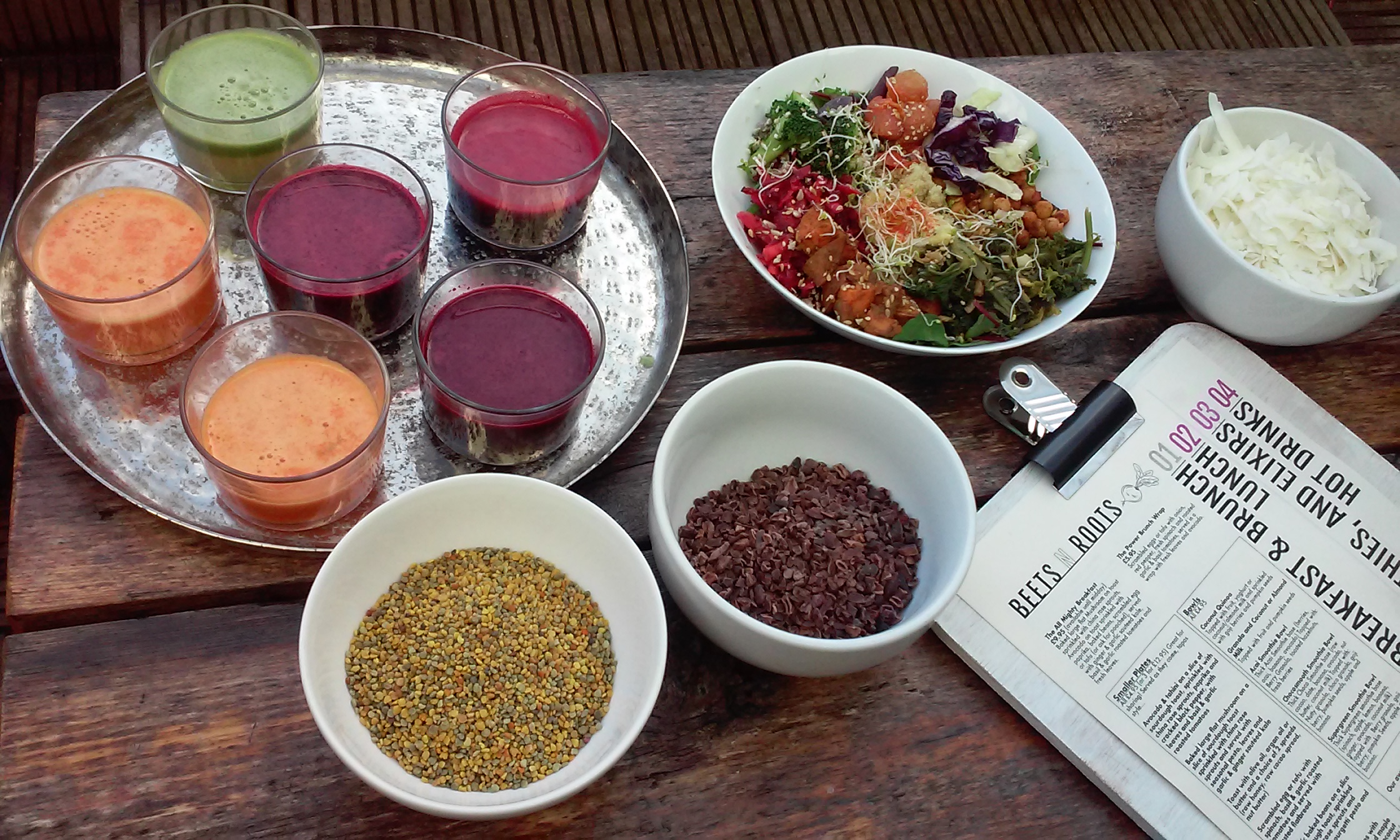 Three key ingredients for a feel-good organic tapas breakfast or brunch at Beets n Roots, Bristol
Three key ingredients for a feel-good organic tapas breakfast or brunch at Beets n Roots, Bristol
What is a Beets n Roots breakfast?
I was really excited to be invited for breakfast at Beets n Roots with the Bristol Bloggers and Influencers group. I'm a great fan of eating chemical-free food, so a visit to a café that's organic for one of my favourite meals of the day promised to be a real treat.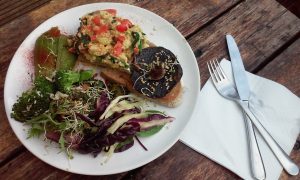 After a bit of research I discovered that Beets n Roots is a vegetarian and vegan café. I wasn't really sure what to expect for breakfast as my experience, up until now, of vegetarian breakfast is a pale-looking frozen veggie sausage. Fortunately, this image was about to change.
3 key ingredients for me
Beetroot

I suppose I should have guessed from the name of the café that beetroot would be on the menu. And, lo and behold, waiting for us on a tray was a selection of freshly made juices, including a bright red beetroot juice.

Red, Green and Orange fruit juices

While I love homemade beetroot, I was a little wary about drinking a glass full of it. However, the colour certainly attracted me and I was impressed at the balance of flavour of beetroot, apples and lemon. Beets are good for us for a whole load of nutritional reasons, including vitamins A, B, C and minerals such as iron, magnesium and copper, all of which we need to function well and give us energy. So, as you can imagine, this is a great start to the day.

Once I'd started with a red juice, I felt it was only fair to try the orange and the green one too. Being used to freshly squeezed juice in Spain, which only contains oranges, I have to admit that I really took to the perfectly balanced combination of orange, carrot, turmeric and ginger in the orange juice. The green one was yummy too and a great way to eat your greens in disguise.

Kale

Ever since I discovered a recipe for kale crisps (kale baked in the oven with olive oil and paprika), I've been a fan of this 'superpower' veg, getting my organic supply from Ros at the Tetbury Goods Shed or the Fishponds Food Assembly. However, I had never had it for breakfast until my experience at Beets n Roots. While kale on your breakfast plate may seem a bit strange, it was my favourite bit of the All Mighty Breakfast; ginger and garlic sautéed kale. Just thinking about it makes my mouth water. The All Mighty as you may guess from the name, is a powerful combination of feel-good foods. A baked mushroom on sourdough toast sprinkled with china rose sprouts, avocado, scrambled eggs (tofu is also available), organic baked beans, kale, garlic roasted tomatoes and fresh leaves.

Feel-good breakfast

Breakfast has never felt so good. While a traditional English breakfast can sometimes leave me feeling tired and sluggish, what I hadn't anticipated was how much energy I was going to have after a breakfast full of fresh, organic vegetable and fruit based ingredients.

Sunshine

I love to eat outdoors. One of my fondest memories of travelling in Norway is of buying a freshly cooked hot omelette at 6.30am on a sunny morning and then popping off down the road to eat it next to a waterfall. These days that might be referred to as a Mindfulness breakfast.

Comfy and cosy

While the waterfall element may not be possible in Bristol, Beets n Roots have a lovely terrace that captures the morning sun. If it's a little chilly, there are blankets available to cover yourself over. The terrace is set back from the road and the wooden tables with potted herbs and cushions give a 'chill-out' feel. It's divided into different levels creating a comfortable space. But don't worry, there's also a cosy indoor seating area for when it's raining.
What else is there?
Beets n Roots also prepare brunch and lunch. There's an organic salad bar, food is cooked on the premises and local ingredients are sourced where possible.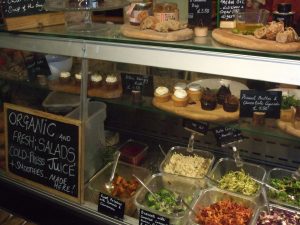 During my second visit here for brunch, I was going to try something different, but the All Mighty Breakfast won me over again. However, the bean chilli that was simmering away ready for lunch smelt so wonderful, that my next visit may well be a lunch time one. There are also plenty of take away choices, making this a perfect work-time lunch spot.
Tapas for breakfast or brunch
I love the idea of sharing breakfast tapas-style. It is a novel and attractive way to try more than one thing on the menu. And perfect when you can't decide what to choose. This brilliant idea means you get three different flavours, textures and sensations. So, if you fancy both sweet and savoury for brunch, you can order buckwheat pancakes served with chocolate and maple syrup as well as scrambled egg with spinach, basil and garlic roasted tomatoes and you still have a third choice.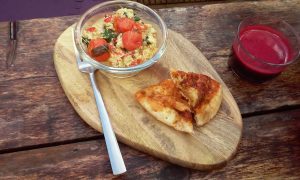 What a great way to share breakfast with a friend or loved one. Or if you don't want to share, you can eat a delicious combination all by yourself.
Apart from the juices and smoothies, a range of teas and coffees are available along with bliss balls (energy balls made of cacao) that have a delicious orange twist and other tempting cakes with gluten free options. And, I am pleased to say, that my herbal tea was served in a pot. Those little touches are so important.
Overall opinion
I'd a like to say a massive thank you to all the staff at Beets n Roots who were friendly and helpful. I really enjoyed my experience here and especially, the feeling of energy that I was left with afterwards. The food I chose was light but filling and very tasty. A great choice for vegans and those of us on the lookout for healthy options.
Where to find Beets n Roots
You can find Beets n Roots in the vibrant Clifton area of Bristol at 39 Cotham Hill, BS6 6JY Bristol, United Kingdom. Or follow them on Facebook.
Prices start from around £4.95 for a tapa size breakfast and at the time of writing this, the All Mighty Breakfast was £9.95. Bearing in mind that after brunch I didn't need to eat again until early evening, I thought this was great value.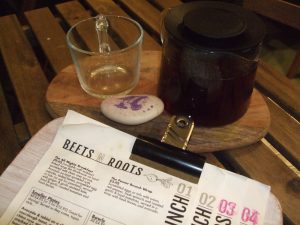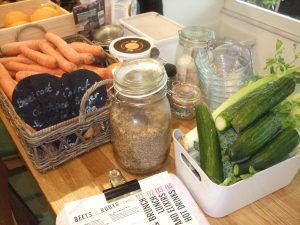 Disclaimer: While Beets n Roots generously invited me to brunch, all opinions are my own.